The programme "Knowledge Update on Poultry Health and Nutrition" was influenced by the African Livestock Productivity and Health Advancement (ALPHA) Initiative. The initiative aims at improving livestock health and positively impact farmers' livelihood in Sub-Saharan Africa.
The training held in Plateau State at Bukuru, Rayfield road, Jos recorded 130 participants by physical training and online Facebook session recorded a total estimate of over 50 participants at the end of the programme (https://fb.watch/7GaORIgMwB/). The programme was attended by chairman Poultry Association of Nigeria, Plateau State chapter in person of Mr Bagudu, Representative from the Ministry and many other dignitaries were present in the event. Gender distribution of the programme was 46% female and 54% males.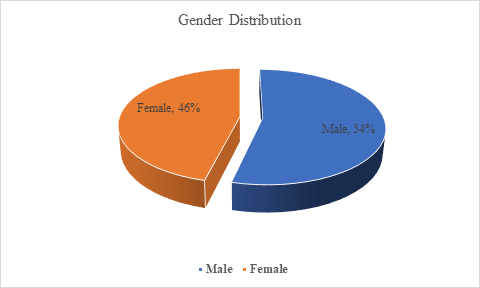 The programme started with an opening prayer from one of the participants, this was followed by a welcome address from the PAN Chairman; Mr Bagudu in this welcome address, applauds the impact of LIFA and encourage the poultry farmers to keep the energy and never lose hope in the poultry industry and assured them that the current crisis facing food security and livestock industry in general will soon be over.
Dr. Stephen Adejoro, the LIFA president appreciate all the participants in his welcome address for their early resumption to the venue. He concluded his welcome speech with a video displayed to the participants that entails the daily consumption of egg to prevent infectious diseases, and its benefit at this period of Covid-19 (https://youtu.be/LGM0DZ2CJJ4)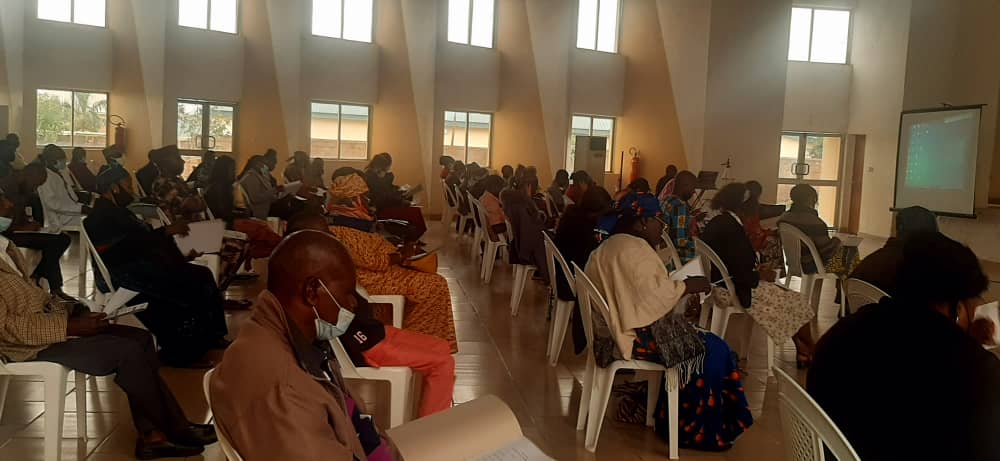 Mr Joshua Olorungbemi welcoming address was delivered by Dr Adah Ogwuche. In his speech he emphasized that Zoetis is an animal health company which originated from Pfizer animal health of which ALPHA initiative is African Livestock Productivity and Health Advancement initiative organized to render support for livestock sectors in Sub African countries (Nigeria, Uganda, Tanzania, and Ethiopia). A three – man resource person delivered seasoned lectures which took a wonderful turn.
The first lecture was delivered by Dr Adejoro and his lecture presentation was centred on the Consequences of Mycotoxin Feed Contamination in Breeder Farms and Hatchery Management; A Case Study in Nigeria. He made it known to the participants that mycotoxins are toxic compounds that are naturally produced by certain types of moulds, which are commonly grown on food like cereals. He listed that Aflatoxins, Ochratoxin A, T2 toxin, Zearalenone, Nivalenol/deoxynivalenol and Fuminosin are the most common observed mycotoxins of concern to livestock, poultry and human health.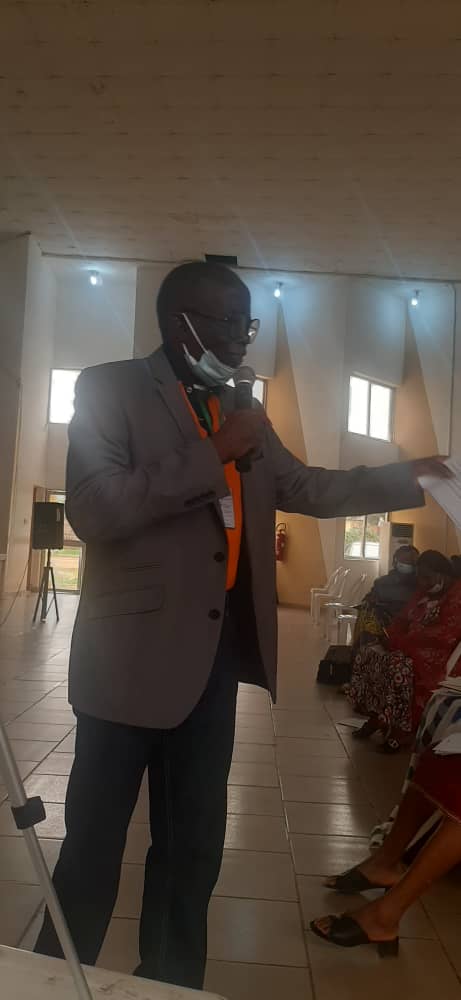 He reported that in 2020, Biomin analyzed 21,709 samples from 79 countries. His results showed that the most prevalent Mycotoxins globally in 2020 were the Fusarium Mycotoxins DON (65%) and FUM (64%), followed by ZEN (48%), while Alexandro Marchioro a senior Mycotoxin expert at Biomin, reported that climate change is the main trigger influencing Mycotoxin prevalence around the globe.
Dr Adejoro emphasized that when contaminated feed are consumed by chicks or adult birds; they pose serious threat to the functional integrity of the immune system leading to resistance development and persistent vaccination failures. His presentation reported that vaccination failure in poultry occurred when chicken do not develop adequate and lasting immune response after the administration of vaccines or when they become susceptible to field challenges during the protective period of such vaccinations.
He discussed about toxin binders which are made up of Aluminum silicate layers of Mg+++ and silicate with negative charges and this layer has between them a space where the toxins can be trapped, and in general this space is just about 0.25 micron. He concluded that the advantage of the innovations is that they can bind large molecule Mycotoxins such as DON, Fuminosin and Zearalinone that cannot pass through the conventional 0.25u inter layer spaces. He recommends that there is a need to enforce a policy on strategic and prophylactic safe incorporation of broad-spectrum Toxin binder as a zoo phytosanitory requirement for DOC trade movement across the border.
The second speaker Dr Jones Okoye gave his presentation on "The Role of Medicated Feed in the Management of Necrotic Enteritis and Coccidiosis in Broiler Production". In his preamble, he defines Enteritis diseases as diseases related to intestine, which are major issue to the poultry industry due to loss of productivity, increase mortality and concerns over welfare. He reported that Necrotic Enteritis are found in the intestinal content, feed, feaces, litters, dust, soil and it affects up to 40% of commercial broiler flocks and cost the US broiler industry, 5% per birds.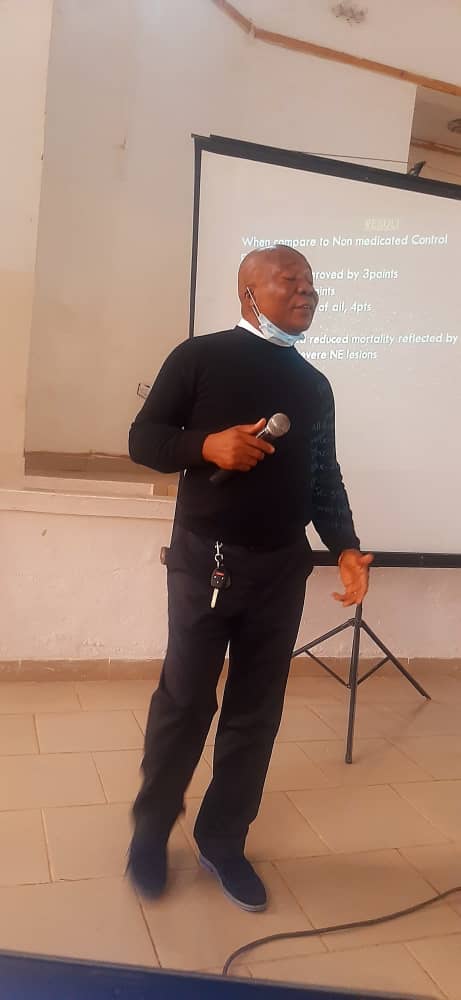 He emphasized that the disease could come in two forms; Clinical and Subclinical. Clinical disease is associated with high mortality if left untreated, while subclinical goes undetected and untreated could results to malabsorption, reduction in growth rate, and increase in feed conversion rate. He stated the risk factors of Necrotic Enteritis as the removal of coccidiostats or antibiotic growth promoter in feed, physiological stress & Immuno suppression, nature & forms of diet.
He then notifies the participants that coccidiosis disease infection process is rapid within 4 – 7 days. It replicates in the host cell and cause severe damage to the intestinal mucosa which could be clinical or subclinical. Dr Jones listed the common signs farmers will notice when the disease attacks their farms. These are; reduction in feed consumption, rapid weight loss, droopiness, ruffled feathers, severe diarrhoea, high mortality, decreased growth and increased FCR. He concluded that RWA production systems had to rely on vaccine, non-ionophore anticoccidial or a combination of both bio shuttle program to prevent coccidiosis/NE.
Dr Adah Ogwuche presentation focused on "Colibacillosis of Poultry Zoetis Approach to Prevention/Control". He presentation point out the aetiology, epidemiology, transmission, clinical signs/post mortem lesions, differential diagnosis, diagnosis, economic importance, prevention/control and Zoetis approach to prevention/control of Colibacillosis of Poultry. Dr Adah reported that E.coli occurs ubiquitously and that most avian species are susceptible to colibacillosis, which is the most common disease in chickens and turkeys.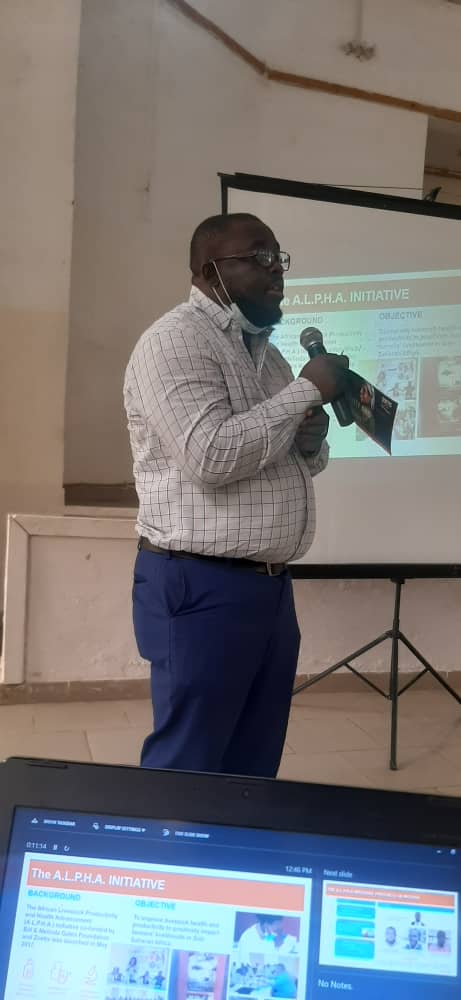 In his presentation, he reported that it is infectious in moist faeces, soil and water at ambient temperature while its survival period is one month. He likewise reported the transmission routes to the respondents. The routes of infection listed are; aerogenic and oral infection, local infection, infection of eggs during formation in the oviduct and fecal contamination of the egg surface with subsequent penetration of the shell and membranes.
More so, predisposing factors in layer and breeders were also listed to the participants; high infection pressure, and stress at onset of lay. He illustrates the economic importance of E coli in poultry, which are; significant economic losses in poultry, frequently reported disease of poultry, and increased in the use of AB/cost of production. Dr Adah reported why there is a need to vaccinate; reduction of mortality, reduction of lesions, reduction of antibiotic treatment and increase number of hatching eggs.
He further explain the Zoetis approach to the control of E.coli which is Poulvac E.coli. He reported that Poulvac E.coli is an effective broad spectrum live vaccine for the control of E.coli in layers, breeders and broilers. Poulvac E.coli vaccine administration reduced mortality/increased production. In summary, he concluded that colibacillosis is economically important and the population is characterized by a huge diversity, and that specific vaccination against colibacillosis is possible.  
In conclusion, questions and answers were brought to the board and many participants asked various questions related to the lectures and outside the lectures presented. All participant's questions were answered by each of the speakers.
LIFA will continue to be proactive in organizing trainings for Livestock Farmers/Stakeholders towards improving the Livestock Industry in Nigeria and Sub-Sahara Africa. We are available for collaborations in areas that may require education,training, advocacy, awareness and policy implementation.
LIFA in her capacity appreciates the collaboration of ZOETIS team and sponsor of the programme ZOETIS and Bill and Melinda Gates Foundation through the ALPHA Initiatives. We are pleased and encouraged by efforts to improve the livestock industry through access to funds for a face-to-face delivery of lectures to farmers and important stakeholders. LIFA is also grateful to PAN, Plateau Chapter, and Mr Raphael for his massive support towards the success of the programme.