Knowledge Update on Poultry Health and Nutrition training was organized in collaboration with the ZOETIS team which aims at Improving Livestock Health and positively impact farmers Livelihoods in Sub-Sahara Africa. The knowledge updates has cut through four states (Oyo State, Abuja (FCT), Kano State and Kwara State) across the geographical zones in Nigeria
The knowledge update on poultry health and nutrition held in Asaba recorded over hundred participants (Livestock Farmers, Veterinarians, Animal Scientist, Feed Millers, Students, Civil Servants, etc). The Seminar took place on 24th March, 2021 at Hall of Celebration, Okpanam road, Asaba, Delta state.
LIFA/Zoetis Alpha Initiatives through her training program have been able to train and sensitize thousands of poultry farmers/stakeholders in Nigeria given enormous desire to improve livestock health and impact farmer's livelihood.
The training programme held in Asaba, Delta State commenced at 8:00 am with registration of the participants and ended at 3:50pm. Three lectures were delivered, a paper presentation on situation analysis of Avian Influenza outbreaks in Nigeria and a case study on problems of poultry succession from one generation to another with 30 minutes allotted to respective lectures.
The programme started with an opening prayer from one of the participants. This was followed by a welcome address from LIFA president; Dr Stephen Adejoro, in his welcome Address, applauds the impact of Zoetis over the years of partnership with LIFA for her selflessness contribution to the good of the poultry industry. He laid emphasis on what LIFA has been doing and series of updates done so far starting from Ibadan, Abuja, Kano, Ilorin, and how the states gave us an appealing result. He urges the Asaba participants to be more proactive in activities concerning livestock industry.
Dr Niyi Bankole representing Mr. Joshua Olorungbemi, applauds the impact of LIFA over the years of partnership with Zoetis for her selflessness contribution to the good of the poultry Industry in his welcome address. He introduced the Zoetis team in Nigeria; Mr Joshua Olorungbemi (Country Lead), Dr Adah Ogwuche (Field Vet/Ruminant Product Manager), Dr Kehinde Adebowale (Field Vet/Poultry Product Manager) and Dr Niyi Bankole (Field Diagnostic Manager). He further listed their distributors in Nigeria to the participants (CHI farms Ltd, Caesar & Jones Ltd, Albesig Agro Farms Ltd and Truthmiles Ltd Rmuninant & Pet Px).
A three-man resource person delivered seasoned lectures which took a wonderful turn. The speakers are: Dr Stephen Adejoro, Dr Niyi Bankole , Dr Kehinde Adebowale. Paper presentation on situation analysis of avian influenza outbreaks by Mr. Lawal Afeez and a case study on family sustainability moderated by Mrs. Adejoro.
The first speaker was Dr Kehinde Adebowale, the Field Vet/Poultry Product Manager of Zoetis Alpha. He delivered a lecture on Overview of IBV in Poultry; Zoetis Approach to Prevention/Control. He explained various mode of IBV transmission, its clinical signs, post mortem lesions, He buttressed on the economic importance in commercial broiler and in future layers/breeders. He laid emphasis on the prevention/control of IBV which is to maintain high level of hygiene/biosecurity, adopt carefully designed vaccination protocol that consist of two or more.
Dr Stephen Adejoro was the second speaker and his presentation focused on the Poultry Transportation System Policies and Recommendations in Nigeria. He enlightened the participants on various types of transportation methods used in poultry businesses and various factors that determines it, which are climate, time of the day, legal environment, distance to location etc. He diagrammatically displayed the various system used in transporting birds in poultry industry which includes traditional transporting crate, primitive system, modern and ideal transporting crate, conventional transport system etc.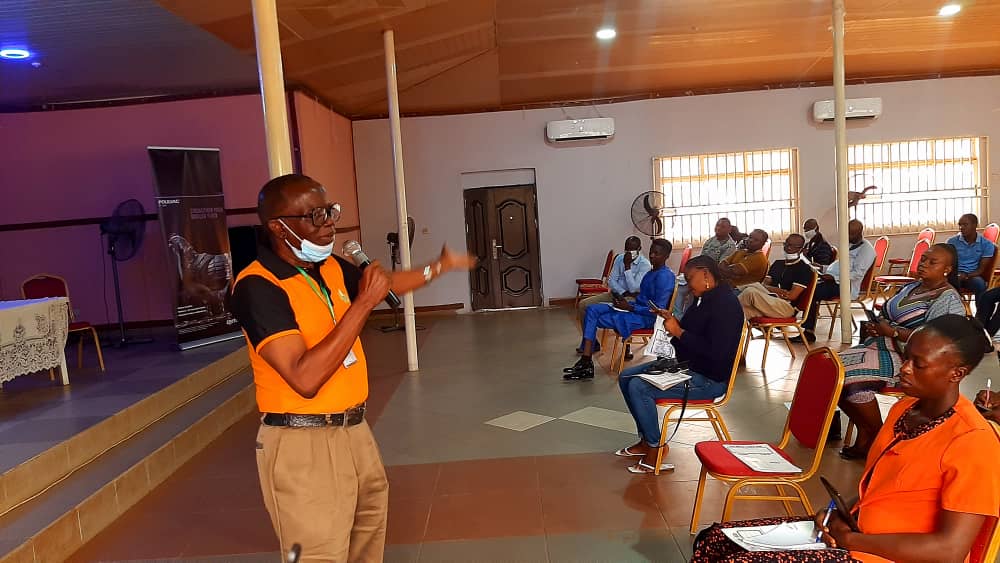 He laid emphasis on the existing veterinary policies on poultry transportation in Nigeria, responsibilities of transporters, offenses and penalties i.e any person who fails to take animal to a control post or fails to take them by the most direct routes as provided by this Acts or refuse to obey the instruction of the authorized officer regarding the inspections, treatment or detention of the animals in quarantine or regarding the disposal of dead animals or remove any trade animal from such inspection station or control post without movement permit etc. shall on conviction be liable to a fine not exceeding #100 or to imprisonment  for a term not exceeding two months for each subsequent offence.
The third speaker gave a lecture presentation centered on Poultry Diseases Monitoring in Complex Co-Infection delivered by Dr Niyi Bankole. He explained an outline on diseases interplay and the Benefits of monitoring which help in determination of proper and timely intervention, prediction of a likely outbreak or roles of co-infections, evidence-based vaccination programs (quality assurance /control; manage mental procedure and inputs), determine effectiveness or cost vs. benefits for interventions.
Mr. Lawal Afeez; LIFA Agricultural Economic Research Analyst present a paper on the Situation Analysis of Avian Influenza Outbreaks in Nigeria. LIFA research findings reported that the outbreak is very obvious in the economy of Nigeria. He then concluded in his presentation that for Nigeria to prevent the fast spread of AI then there must be a practice of ring vaccination immediately an outbreak is announced in a state.
The last lecture was a case study on Poultry Farm Sustainability which was moderated by Mrs. Adejoro (LIFA Vice President). She presented the case study by asking the participants the following questions; why do poultry investors or entrepreneurs in Nigeria or Africa fail in family succession? Who has succeeded the once thriving poultry farms in Nigeria and Africa? What exactly is the problem of poultry industry sustainability in Nigeria and Africa? We always say that poultry business is a lucrative and profitable business, but why does it fail with the investors or before the demise of the investors? The current poultry investors in Nigeria are the third-generation investors, yet very educated but how many of them inherited this business from parents? The case generated lots of responses from the participants which was interactive and educative.
In conclusion, questions and answers were brought to the board and many participants asked various questions related to the lectures and outside the lectures presented. Every participant's questions were answered by each of the speakers. Light refreshments were served while taking the questions and answers section. The seminar programme ended with a closing remark by Mr. Jerry, and closing prayer by the participant. Group photographs were taken while participants received a certificate of participation.
LIFA will continue to be proactive in organizing trainings for livestock farmers/stakeholders towards improving the livestock industry in Nigeria and Sub-Sahara Africa. We are available for collaborations in areas that may require education, training, advocacy, awareness and policy implementation.